Carol Nelson
How to Paint Geologic Abstracts
MIXED MEDIA
Friday, Saturday & Sunday
April 28, 29 &30, 2023
9:00 am - 4:00 pm
$450.00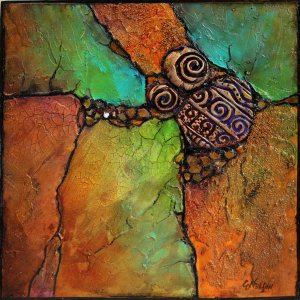 WORKSHOP DESCRIPTION:
This class will cover Geologic Abstracts and Miniature Gems. The first two days will be focused on Geologic Abstracts. This is Carolís most requested workshop. Carol will show you how to create an exciting composition. You will be working with 140lb. watercolor paper and mounting to wood cradle boards. Carol has unique methods to create the many textures that are naturally present in the landscape: using molding paste, texture compounds, and acrylic medium to design your pieces. On the last day, Carol will show you her secret method of making unique miniature gem abstracts, which look amazing in groups of three or more on wood panels.
ABOUT THE ARTIST:
I am a mixed media artist living in Aurora, Colorado. My passion is experimenting with mixed media materials and creating my vision of the world around me. Color, texture, and composition are important elements in all my work. I love teaching workshops about my work both around the country and in my home studio near Denver, Colorado. It is thrilling to hear how my instruction has literally changed the creative lives of so many artists around the country.
Website: www.carolnelsonfineart.com