Henry Yan
Figure Drawing with Passion
Friday, Saturday & Sunday

June 3, 4 & 5, 2022
9:00 am - 4:00 pm
$600.00
plus model fee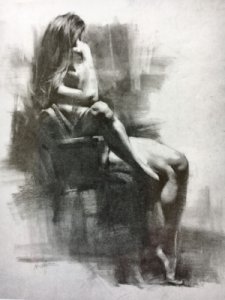 WORKSHOP DESCRIPTION:
"If I could train my hand to listen to my mind, my drawings would be so much better." A challenge we all wrestle with. The goal is not to copy the model but to train your mind to "see" by understanding the building blocks of the human figure. In this short workshop on Life Drawing, we will learn the basic tools: proportions, anatomy and lighting, and use this knowledge to capture the essence of the pose. We will discuss techniques that simplify the drawing process and enhance clarity. In life-drawing, capturing the subject's gesture is the key to a successful drawing.
Exercises that refine the student's basic knowledge until they can confidently produce solid imagery, enabling them to concentrate more on the fluid expression of their marks on paper instead of the simple reportage of their subject, whether it be drawing from life or their own imaginations.
ABOUT THE ARTIST:
I paint and I teach.
I paint people, I paint landscapes and I paint anything that inspires me to mix colors and brush them on canvases. Galleries, private collectors and commissioned clients are those to whom my paintings went.
I teach drawing, I teach painting and I teach anything that my students like to share with me. Many years I have taught and still I am teaching – full time-Academy of Art University-San Francisco.
I've seen energetic students, I've seen sleepy students, life is delicious - as long as one's happy.
About me? My shoulder hurts, my throat's sore- because I paint and I teach.

Website: www.henryyanart.com