Janet Rogers AWS
Expressive Watercolor Portraits
Friday, Saturday & Sunday

September 16, 17 & 18, 2022
9:00 am - 4:00 pm
$425.00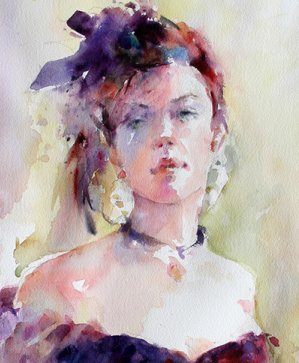 WORKSHOP DESCRIPTION:
This dynamic workshop is designed to enable participants of all levels to quickly gain confidence in approaching the head and figure in a more spontaneous, intuitive and expressive way.

Demonstrations, class instruction, individual assistance, "show and tell", and a series of "fun" exercises, will weave into class painting time. Special emphasis will be on achieving a fresh look of translucent flesh tones in the portrait with unique color changes, which will add to the excitement of capturing the essence of the subject.

Students will have an opportunity to work from their photographs or Janet's. Our goals will be to "see" in new ways - bringing "life" and interpretation to the portrait and figure, and to discover intuitive color and design. Janet will provide some drawing "helps" for anyone who is new to painting people.
ABOUT THE ARTIST:
Janet Rogers has been working as a professional artist for over 35 years and is a nationally recognized instructor, conducting workshops throughout the United States and in Europe. She has achieved Signature Status in The American Watercolor Society, Transparent Watercolor Society of America, The Florida Watercolor Society, South Carolina Watercolor Society and others. She has garnered many awards over the years for her sensitive paintings of people which are spontaneous, direct, and expressive. Janet shares easily with others her passion and joy for the fluid and unexpected nature of watercolor. She leads popular workshops and demonstrations throughout the United States, Canada, and Europe.

Four instructional DVDs have been filmed on Janet's work. Janet has been published in articles featuring her portraits and florals, including, "The One-Hour watercolorist" ; some of her demonstrations can be viewed on YouTube.
Website: www.watercolorsbyrogers.com