Susan Ploughe
Fresh Approaches to
Painting Animals (Oils)
Friday, Saturday & Sunday
April 9, 10 & 11, 2021
9:00 am - 4:00 pm
$330.00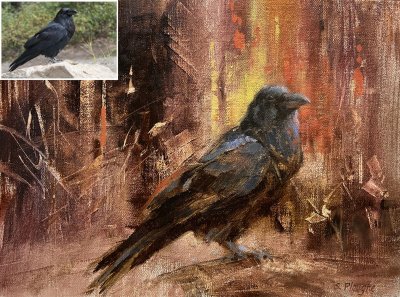 WORKSHOP DESCRIPTION:
Explore creative approaches that you can use when painting animals, as well as any other subject matter. Discover new ways to apply paint (or drip it, remove it, scrape it). Use unconventional color palettes, incorporate pattern, and more. Learn how to create something original rather than merely copying a photo. The focus will be on experimentation
and creativity.
ABOUT THE ARTIST:
Susan holds a BFA in Painting from Carnegie Mellon University. A native of Pennsylvania, she has lived in Lake Zurich, Illinois, for over 20 years. After many years of working as an illustrator and graphic designer, she turned to oil painting full time in 2002. Since then, her work has been juried into many respected shows, including the Oil Painters of America National Exhibition, and she has won awards in the OPA Eastern Regional, Salon International, the American Impressionist Society, Plein Air Easton and other exhibits. Susan's work has appeared in articles in Southwest Art, American Art Collector, Fine Art Connoisseur, International Artist and American Artist magazines.
Website: www.susanploughe.com