Jen Evenhus
PSA-MP, NPS-DP, IAPS-MC, PSWC
Pastel Landscapes
The Beauty of Imperfection
Friday, Saturday & Sunday

April 30, May 1 & 2, 2021
9:00 am - 4:00 pm
$450.00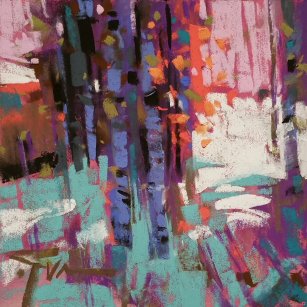 WORKSHOP DESCRIPTION:
Your pastel paintings will take on new energy, dynamic composition and bold color using simplification, confident strokes, exaggeration and movement. Embrace your wild side as we work hard to be imperfect using an impressionist abstract style to explore shapes, negative space, new color groups and mark-making through discussion, demos, timed exercises, lots of painting and one-on-one coaching in an encouraging atmosphere. We'll use bold underpainting, markers and unconventional tools with your pastels to create unique works of art.
ABOUT THE ARTIST:
Jen Evenhus is a nationally recognized, award winning artist. Jennifer's bold use of color is what first attracts the eye. She is fascinated with the painterly effects one can achieve with pastels, or the wonderful transparency and opacity of oils. Whether with oils or pastels, Jennifer enjoys the process of painting as much as completing the work. Always sorry to see the journey end, Jen describes the process as a journey through unknown territory. Even though she has a good idea of the outcome she wants, she is careful not to become locked into an idea, staying open to all those little accidents that happen along the way, careful not to cover them up so the viewer might experience her travels and discoveries. These accidents she describes as unforeseen treasures that give a painting character, depth, and movement. Jennifer's work is often very abstract, using earth scapes as a starting point, she paints out most of the detail, leaving just enough for the viewer to become lost in a new world.
Jennifer has exhibited work in New York City at the National Arts Club; Albuquerque at IAPS Convention Exhibits; Denver, Colorado at Carol Siple Gallery; Sacramento and Redding, California; New Orleans at the World Trade Center; Coos Bay and Bend, Oregon and Seattle, Issaquah, Everett, and Anacortes, Washington to name a few. She enters and is accepted in many juried shows each year and has numerous national awards to her credit.
Website: www.jenevenhus.com