Susan Ploughe
About F.A.C.E. Portrait
Friday, Saturday & Sunday

January 31, February 1 & 2, 2020
9:00 am - 4:00 pm
$330.00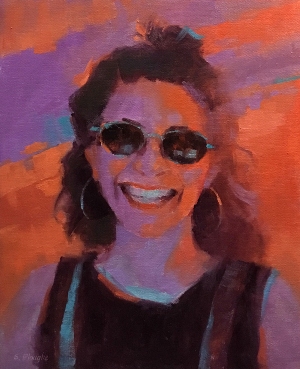 WORKSHOP DESCRIPTION:
Have you always wanted to paint people, but have been held back by fear, or perhaps attempted a few portraits and been discouraged by your results? Maybe you have produced many good portrait paintings, but you feel uninspired, stuck in a rut. This workshop is all about removing barriers that are keeping you from fully enjoying the process of painting people.
Through daily demonstrations and discussions, I will introduce a variety of ways to approach portraiture, expanding the possibilities of what a portrait can look like. You will experiment with different surfaces, color palettes and ways to apply paint, and the focus will always be on freedom, amusement, courage and exploration!
ABOUT THE ARTIST:
Susan holds a BFA in Painting from Carnegie Mellon University. A native of Pennsylvania, she has lived in Lake Zurich, Illinois, for 25 years. After many years of working as an illustrator and graphic designer, she turned to oil painting full time in 2002. Since then, her work has been juried into many respected shows, including the Oil Painters of America National Exhibition, and she has won awards in the OPA Eastern Regional, Salon International, the American Impressionist Society, Plein Air Easton and other exhibits.
Susan's work has appeared in articles in Southwest Art, American Art Collector, Fine Art Connoisseur, International Artist and American Artist magazines. Her paintings are in private and corporate collections around the world, and she paints portraits on commission.
Website: www.susanploughe.com