Frankie Johnson
Just Flowers
Friday, Saturday & Sunday
March 8, 9 & 10, 2019
9:00 am - 4:00 pm
$330.00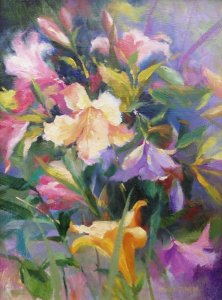 WORKSHOP DESCRIPTION:
You will learn a variety of techniques to help you master flower painting. What characteristics make up roses, mums or daisies? How do you break down a lilac or hydrangea?
Design better flowers in a simplified way using exciting color, bigger brushes and just enough texture. Create more impact to dazzle your viewer.
ABOUT THE ARTIST:
Frankie is an accomplished artist with over 40 years of experience in oil painting and pastels. For the last thirty years, Frankie has taught drawing, oil and pastel painting at The Studio In The Woods (Wauconda, Illinois), The Studio of Long Grove and the Mainstreet Art Centre, which she opened in 1994 with a talented staff of instructors. She conducts workshops in locations throughout the Midwest.
Frankie has participated in many juried exhibitions and plein air painting competitions and won numerous awards for her paintings through the years. She is currently represented by the Fine Line Designs Gallery in Ephraim, Wisconsin and Castle Gallery in Fort Wayne, Indiana. Frankie's paintings, including numerous portrait commissions, hang in corporate and private collections throughout the country.
Website: www.frankiejohnsonartstudio.com