Fealing Lin
Watercolor - Cityscape, Landscape & Portrait
Friday, Saturday & Sunday
May 18, 19 & 20, 2018
9:00 am - 4:00 pm
$400.00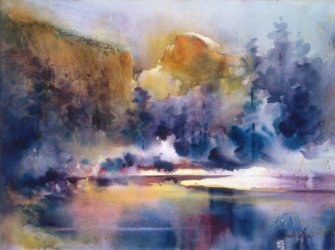 WORKSHOP DESCRIPTION:
Fealings work inspires an emotional response to Nature, resulting in a timeless, yet contemporary, feel to her artwork. This workshop will be focusing on analyzing proper values, how to simplify the subject and possible formats will be explored for strong composition and design. Understanding values is the key for creating the depth in a successful cityscape / landscape painting. Learn to edit much from the scene and to be very aware of edges to reveal what you want to feel.
There will be demos from Fealing, some exercises for you, and plenty of personal instruction
ABOUT THE ARTIST:
Award-winning watercolorist, Fealing Lin of San Marino, California, was born in Taiwan and began her journey into artistic expression as a protégé of renowned professor Ching-Jung Chen in Taiwan, subsequently pursuing her career in the United States with watercolorist and senior art historian professor Verna Wells. With a fluidity of colors, Ms. Lin combines impressionistic strokes and semi-abstract techniques to elicit life and movement in her portrait and landscape watercolors. Her paintings adorn the paper with both harmony and emotion. Fealing is a signature member of National Watercolor Society, Transparent Watercolor Society of America, Watercolor West, San Diego Watercolor Society and the Missouri Watercolor Society. Fealing's works also appear in many magazines and books, including Watercolor Magic, Artist Sketch Magazine, International Artist Magazine, Best Watercolor, and Splash.
Website: www.fealingwatercolor.com