Margaret Dyer
The Figure in Pastels
Friday, Saturday & Sunday,
April 7, 8 & 9, 2017
9:00 am - 4:00 pm
$450.00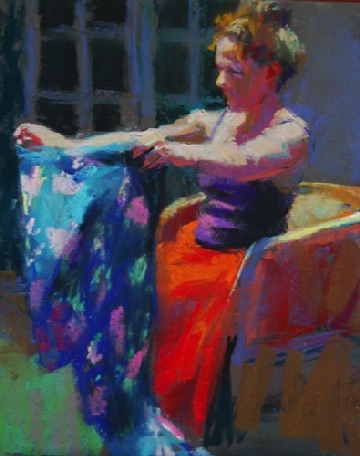 WORKSHOP DESCRIPTION:
In Margaretís workshops students are taught a traditional pastel painting technique. Working with live models and photos, students will explore drawing, composition, anatomy, proportion, value, color and pastel application. Emphasis will be on developing form using light and shadow using Margaretís easy step-by-step method. For those who are bewildered by color or are wanting to speed up and become less tight in their work, this is an excellent class to take. Students do not need prior pastel experience. Some drawing would be helpful, but not imperative.
ABOUT THE ARTIST:
Margaret has lived in Atlanta, GA, since her family moved from New York in 1960. She attended the Atlanta College of Art at the High Museum of Art and furthered her studies under painters Roman Chatov, Kate Fetterolf and Jim Richards. A Master Pastelist with the Pastel Society of America, Masters Circle in the International Association of Pastel Societies and award-winner in the American Impressionist Society, Margaret has made her living for over 20 years selling her work and teaching. Follow her and travel vicariously with her.
Website: www.margaretdyer.com