John P. Lasater IV & Jason Sacran
Plein Air Painting:
Taking It to the Next Level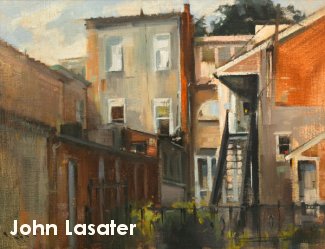 June 3, 4 & 5, 2016
Friday & Sunday , 9:00 am - 4:30 pm
Saturday, 4:00 pm - 11:00 pm (Nocturne)
$450.00
A fabulous opportunity to work with two of the countries top Plein Air Painters!
ABOUT THE ARTISTS:
John P. Lasater IV developed a love for art, working as a designer and illustrator for a division of Hallmark Cards. Fine art was a natural transition after years of study and practice. John now paints full time, both from his studio in Siloam Springs, Arkansas, and on the road painting "en plein air". John's honors include national plein air painting awards, artist-in-residency's, feature articles in both Southwest Art and Plein Air Magazine, and mentions in art magazines including Art of the West, Southwest Art, International Artist, and Plein Air Magazine
Website: www.lasaterart.com
Jason Sacran has a BFA in Painting from Tennessee Tech University. He and his family live in Fort Smith, Arkansas, where he was the curator for the Fort Smith Art Center for almost three years. In 2010 Jason became a full-time artist/painter and part-time instructor for the University of Arkansas Fort Smith. Jason is also the Arkansas state ambassador for the Portrait Society of America. He has had several exhibitions and been awarded many times for his works and achievements including a first place award in the Portrait Society of Americas 2011 Members Competition. Jason is quickly rising as a top plein air painter and considers plein air one of, if not his favorite subject.
Website: www.jasonsacran.com
WORKSHOP DESCRIPTION:
If your goal is to create compelling, playful, beautiful artwork outdoors and enjoy the process, this workshop will give you simple steps that make it possible to work quickly and capture your emotional response to nature and light.
John & Jason's desire as instructors is to give you a measure of confidence that will make you free to become who you were meant to be as an artist. They teach the importance of composition, shapes, colors, values, edges, and texture. Just as important, they teach you to follow your heart when deciding what to paint.
You will work a day with each instructor and an evening too.
Objectives:
Gain experience with one of the toughest subjects – landscape en plein air

Choosing where to paint – things to think about before settling on a spot to paint

Utilizing a process; how to approach a plein air painting and follow through

Familiarization with tools, oil paint, and application

When to call it quits/finishing your piece