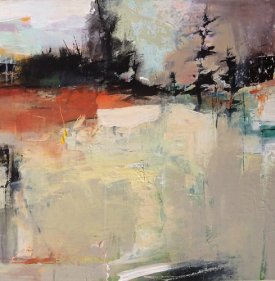 Joan Fullerton
Contemporary Approaches for Greater Self-Expression
Friday, Saturday & Sunday,
November 4, 5 & 6, 2016
9:00 – 4:00pm
$450.00
WORKSHOP DESCRIPTION:
Paint freely, find your own voice, and be happy in the process! Give yourself the gift of more imaginative art. Experience inspiring demonstrations and lectures, and get feedback and support while exploring new concepts. Let's discover deeper meanings to the intricacies of shape, line and color. You'll learn to coax hints of reality from an abstract background, how to control values and colors for emotional emphasis, and how to suggest rather than delineate. You'll explore working intuitively, responding to what shows up; working in a series; and will learn the mixing and utilizing of neutrals for softer, more ethereal abstracts. We'll touch on notions of confidence, procrastination, vulnerability, curiosity, courage, play, metaphor, symbolism, and competition. You will create compelling art not only by focusing on technique, but will discover your unique "content". Beginning students will find encouragement and confidence, while more advanced students will benefit from Joan's insightful solutions to their artistic challenges. Be prepared for a light-hearted imaginative experience!
ABOUT THE ARTIST:
Born into a Wyoming ranch family, I grew up with a deep regard for the natural world. For me the subtle nuances as well as the awesome power of nature's beauty, made the solitude of the isolated prairie sacred. While raising 3 children, I studied watercolor with Edgar Whitney, Frank Webb, Charles Reid and other nationally known watercolorist. In 1985 I returned to college and achieved BFA and MFA degrees in painting from the University of Wyoming. I was a college art instructor from 1990 to 2003 in Cheyenne, WY. And in 2003 I fulfilled a long time dream when I moved to Taos, NM, to paint full-time. After 8 successful years in Taos, I am now in the Denver, CO area, painting and teaching workshops.
Website: www.joanfullerton.com