Qiang-Huang
Still Life Painting Workshop
Friday, Saturday & Sunday,
June 12, 13 & 14, 2015
9:00 – 4:00pm
$425.00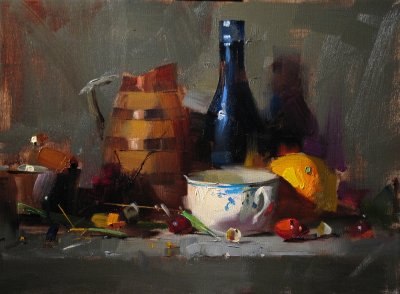 ABOUT THE ARTIST:
Qiang Huang (pronounced Chong Wong) was born and raised in Beijing, China and now lives in Austin, Texas. His interest in art developed at a young age. For various reasons, he was unable to attend professional art institutions, studying science and
technology instead. He moved to America in 1985, obtained a Ph.D. in physics in 1993, and embarked on a career in optical engineering. Meanwhile, he remained active in local art communities. To further develop his artistic skills, he attended classes and workshops.
Qiang is also a self-represented daily painter. He showcases his updated work on his blog, and markets his paintings in online auctions. Thousands of artists follow his painting blogs and communicate with Qiang regularly.

Website: www.qhart.com
WORKSHOP DESCRIPTION:
Qiang's approaches to still-life painting will be demonstrated with particular focus on composing dramatic setups by observing the light distribution, and using bold and loose strokes to create a powerful and accurate representation on canvas. Using demonstrations, presentation, and individual assistance, Qiang will explain his process of creating energetic paintings by manipulating values, colors, edges, and brushwork. Personal attention will be given to each student according to his/her current skill level and personal goals in art.