Barbara Courtney Jaenicke
Interpreting the Landscape
in Pastel or Oil
Friday, Saturday & Sunday,
March 14, 15 & 16, 2014
9:00 am - 4:00 pm
$350.00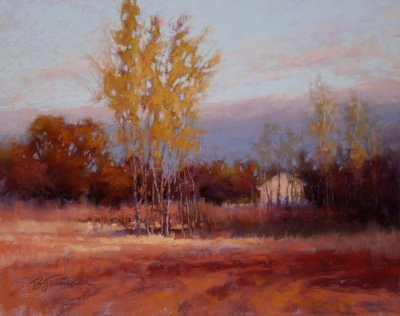 WORKSHOP DESCRIPTION:
One of the biggest hurdles I've encountered as an artist is moving past the point of copying a scene to interpreting a scene. As beginners, we all start by learning the mechanics of rendering (or copying) the subject matter with our medium of choice. But eventually, we want to move past that and portray our own version of what we see before us…to find our own artistic voice and tell our own story.In this three-day workshop, we'll work on exercises that will help you move out of the copying mode and into the interpretive mode. Plan to work on several small pieces during the course of the workshop, including a few small, quick thumbnails. I'll begin each day of the workshop with demonstrations and then provide plenty of individual help at the easel for the remainder of each day.
ABOUT THE ARTIST:
An artist since her teen years, Barbara started her art career as an advertising art director in 1986 and later worked in corporate marketing. She happily turned her focus to fine art in 2002, and began teaching in 2004. She was featured in the December 2011 issue of the Pastel Journal and is a Signature Member of the Pastel Society of America and Oil Painters of America.
Currently living in Roswell, GA, Barbara teaches weekly classes in the Atlanta area and workshops around the country. Her work is represented at Stoneheart Gallery in Evergreen, CO, Watson Gallery in Atlanta, GA, and Raiford Gallery in Roswell, GA.
Website: www.barbarajaenicke.com