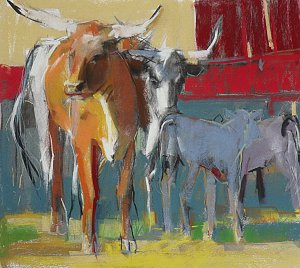 Dawn Emerson
Pastel Workshop
Friday, Saturday & Sunday,
November 7, 8 & 9, 2014
9:00 – 4:00pm
$400.00
WORKSHOP DESCRIPTION:
Through guided exercises participants will explore the textural possibilities of the pastel medium as they work on individual themes. The goal is to bring spontaneity and joy back into the work!

My philosophy about teaching is to create a culture of joy and sharing in the class. I have 25 years of experience teaching drawing and painting to all ages and levels, and am constantly challenging myself to grow as an artist and instructor. My goal is to help you develop the skills you need to express your own passion with art. My teaching style is dynamic, challenging, and innovative rather than "how to," emphasizing process rather than product. I believe the workshop setting is the place to try new things and to take risks and that you will learn as much from each other as you will from me.
ABOUT THE ARTIST:
Whatever the subject Dawn paints with pastels, there is a sense of energy, movement, and vitality that is engaging to the viewer. Her work has won numerous national and international awards, and she has been featured in art magazines such as The Pastel Journal, The Artists' Magazine, and International Artist. Her work is included in books such as A Painter's Guide to Design and Composition, The Best of Pastel Volume 1 and 2, and Strokes of Genius Volume 2. Dawn is a signature member of the PSA and the PSWC, and she is a dedicated artist/teacher with over 20 years of experience teaching drawing and painting to adults and kids of all ages. Her teaching style is dynamic, challenging and inspiring, and most importantly--FUN and innovative.
Website: www.dawnemerson.com