Ned Mueller
Making a Painting Work
Friday, Saturday & Sunday,
April 16, 17 & 18, 2010
9:00 – 4:00pm
$450.00
(Min. 6, Max. 12 students)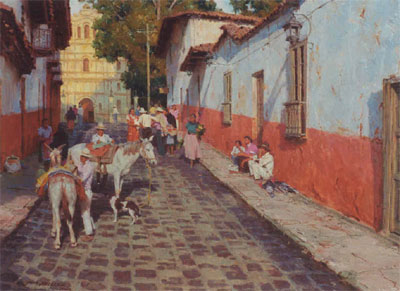 Ned was raised in Montana & graduated from the prestigious Art Center School of Design in Los Angeles, where he also taught drawing while still a student. Ned worked as an illustrator for 25 years while building a solid foundation of professionalism and has worked as a successful full time artist since 1984. He is a popular and enthusiastic workshop teacher around the country and abroad. He is currently working on a book about painting.
WORKSHOP DESCRIPTION:
A painting is a very personal statement by the artist and tells as much about the artist as the painting itself. We will talk about and execute the process of putting a painting together from the first concept, value or color studies and on to the final paintings. The emphasis however, will not be on finished paintings, but on this process to achieve more fulfilling and successful works. Finished pieces are not the goal here, more starts, mistakes and failures could be the order of the day, but you should leave with some better ideas on getting better ideas and compositions that are more compelling to you and the viewer. We will talk a lot about composition and the unbalance of values and shapes along with color harmony. Artist should be prepared to work from their own photos and/or field studies and I will have a wide selection of photos that you may work from. We will make mistakes, work hard and have a good time doing it.