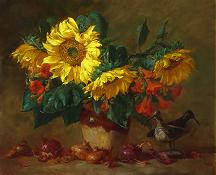 Joe Anna Arnett
Flowers and Still Life in Oils
Friday, Saturday & Sunday, October 22, 23 & 24, 2010
9:00 – 4:00 pm
$450.00
Joe Anna Arnett is a master artist on "Passport & Palette" the art instruction and travel series airing on PBS stations across the country. She not only appears on the show, but also produces and writes for the program.
Arnett has written articles for The Artist's Magazine, American Arts Quarterly, and ART Ideas. Australian Artists Magazine and has been featured in The International Herald Tribune, Southwest Art, Western Art Digest, and the North Light books, Painting with Passion, The Best of Flower Painting, and The Best of Flower Painting II.
She authored the North Light Book" Painting Sumptuous Vegetables, Fruits and Flowers in Oil.
A passionate traveler, Joe Anna enjoys painting wherever she goes, often combining the experience with teaching plein air workshops. www.joeannaarnett.com
WORKSHOP DESCRIPTION:
In this workshop, we will paint from fresh flowers and still life compositions. Artists will use these subjects as the starting point to examine some of the very fundamentals of painting. Mastery of these fundamentals will give you artistic freedom to explore in any direction your own creativity may direct you. When these basic concepts become second nature, artists are released to express their own voice in their own way. Understanding light and color temperature, values, the varieties of edges and the expressive use of impasto brings a level of confidence that allows you to become the artist you want to be.
The painters are encouraged to request specific demonstrations, lecture topics and discussions throughout the event. Because every class is different and because all levels will be accepted, there will be varying interests. Each painter is important and at a different point in their development. Helping and encouraging each artist at their own level of development will be an emphasis of this workshop.